Are rose bears made of real roses?
At present, most of the rose teddy bears sold on the market are made of artificial flowers. The production cost will be staggering if it is made with real roses. Therefore, if you just want to buy a rose bear as a gift for your girlfriend, then the artificial flower rose bear will be a more reasonable choice.
What is the rose bear made of? What is the material of the rose bear?
The rose bear is composed of a bear's body and roses attached to the surface.
The body of a bear is generally a bear model, usually made of foam, which is a mass-produced foam. Of course, you can also make a bear's body by hand. We will introduce how to make a rose teddy bear below this post.
Roses are generally made of the following three materials:
1. Real fresh roses
It is suitable for DIY hand-made at home. You need to buy enough roses at the flower shop, and then fix the flowers on the bear.
Cost: very high
Storage time: 2-5 days
2. Preserved Rose
Preserved Rose is a kind of processed rose. The processing procedures include dehydration, decolorization, drying, and dyeing. The final result is a flexible rose flower with a completely natural appearance. The stabilizzative keeps working for months, or even years! With minimal care, we can enjoy our preserved flower for a long time.
Cost: higher
Storage time: 1-3 years. All you have to do is keep your bear out of sunlight, water, or excessive heat, and this it will last from one to three years. Each flower is carefully chosen and preserved to keep it looking beautiful for years to come.
 3.EVA Material Artificial Rose Flower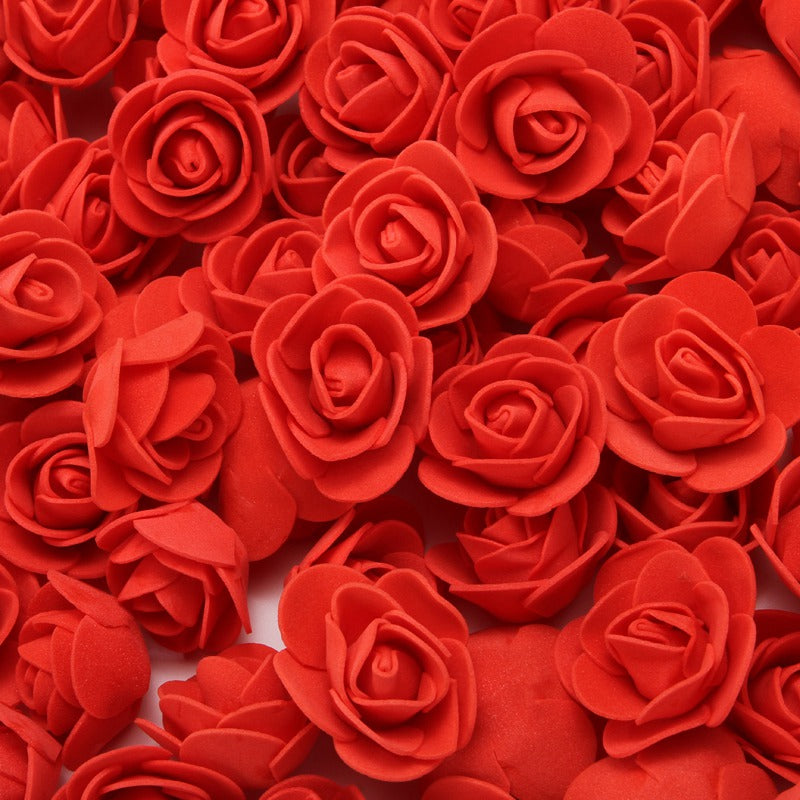 This is an industrially produced artificial flower made of EVA material, which has the characteristics of mass production, low price, rich colors and realistic appearance.
This kind of rose bear is currently the most popular Valentine's Day gift on the market.
Cost: low
Storage time: long-term
FAQs
Q: Do rose Bears last forever?
A: Yes, if you bought an artificial rose bear.
Q: What the popular sizes of rose bear?
A: 25cm/10" tall and 40cm/16" tall.
Q: How many roses does it take to make a rose bear?
A: A 40 cm tall rose bear generally needs 550 to 600 roses.
Q: What's price?
A: For artificial rose bear, the price will from about $20 ~ $100 according to the size of bear.
Q: Where to buy teddy bear with roses?
A: The most convenient way is to buy online, you can buy from amazon or some brand online store.
How to make a rose bear?
1. Hand-made or buy a teddy bear body.
It is not easy to make a smooth and usable body. Usually this model is made of foam, or other materials you can imagine.
We recommend that you purchase a foam model body from online store, just like the following:
Models have many heights (Height: 20cm, 25cm, 30cm,40cm, 60cm, 70cm and etc), you need to pay attention to it when buying.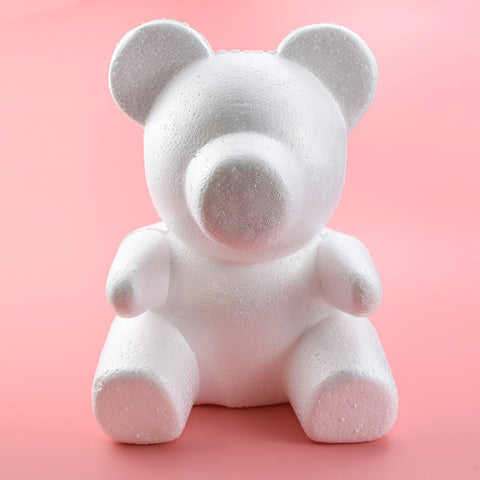 2. Prepare the corresponding number of artificial flowers. (Due to the high cost of fresh roses and reserved roses, no demonstration will be made here)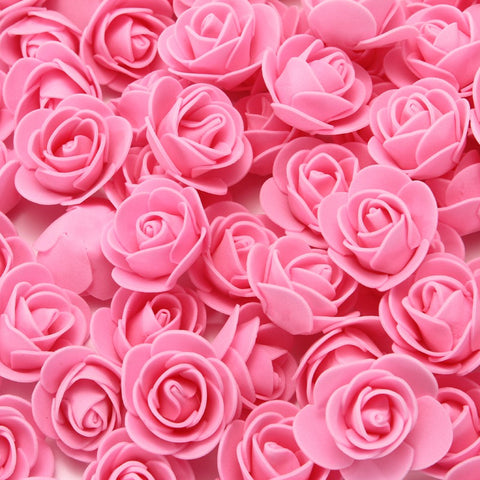 You can buy them online also.
The diameter of these artificial flowers is about 3.5cm, and the thickness of the leaves is about 1mm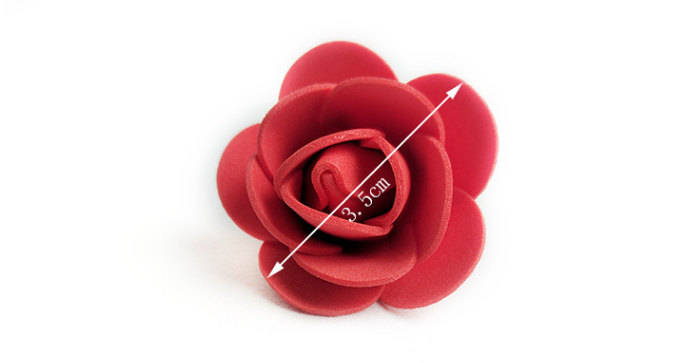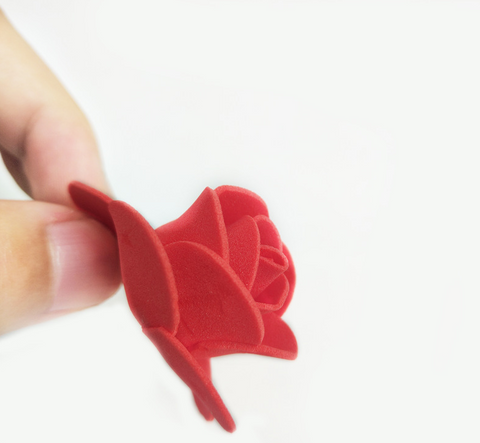 The colors of artificial flowers could be: red, rose red, pink, brown, green, royal blue, wine red, Tiffany blue, purple, light pink, flesh color, orange, sky blue, gray, white, milky white, yellow, light green, Black etc.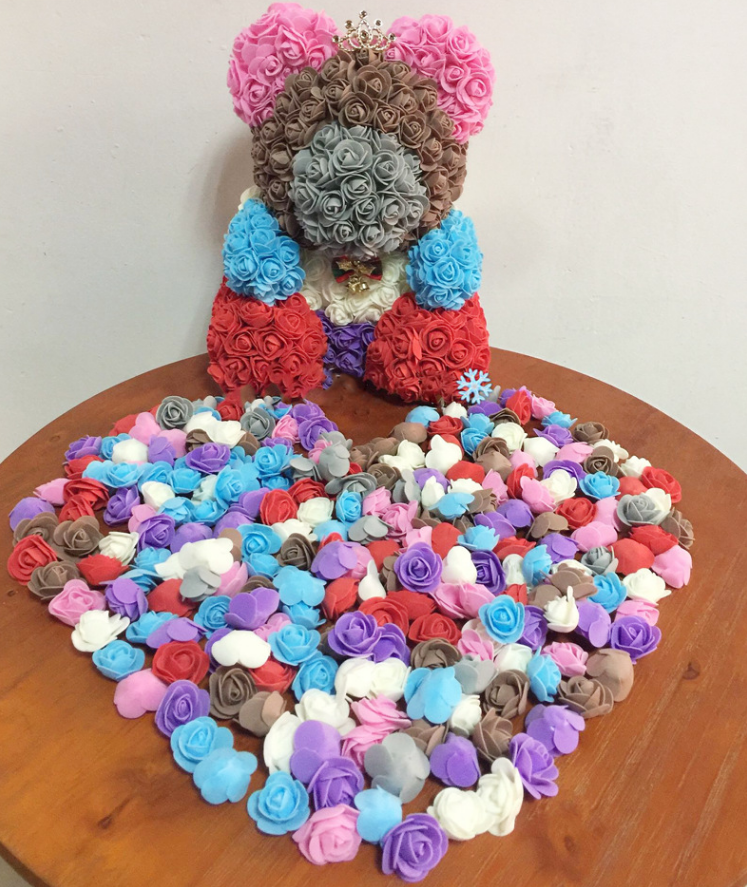 3. Prepare pasting tools: glue gun and glue stick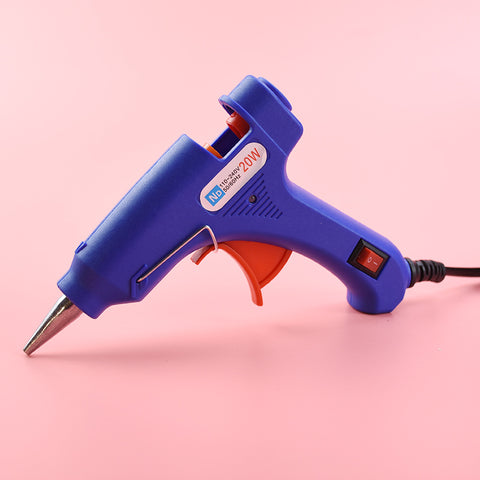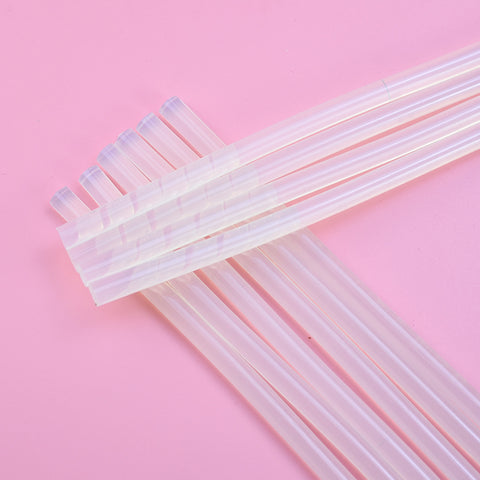 4. Operation steps.
First melt the glue stick and apply it evenly on the bear model, and then quickly glue the flowers one by one, until all the locations are covered with flowers.
The following video is for reference:
Rose bear with lights
You can wrap some decorative lights on the bear to make the gift more beautiful.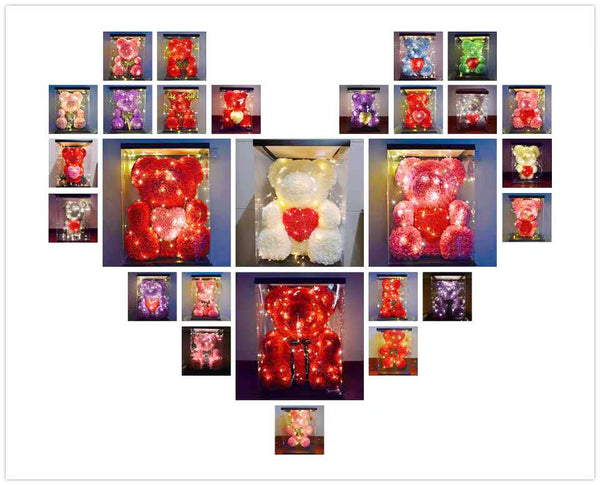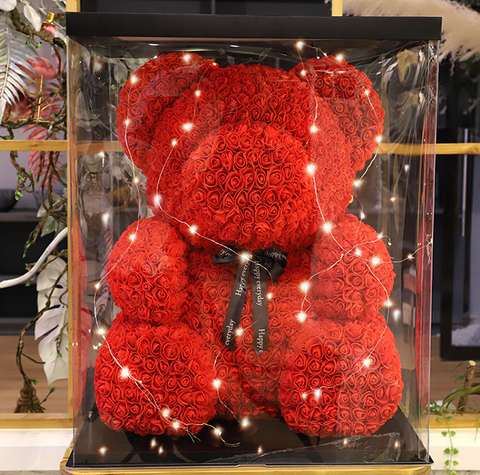 Rose bear for valentine's day
Is the rose bear the hottest Valentine's Day gift?
Yes, many internet celebrities and even celebrities have posted their cute rose bear on their Instagram.
If you don't believe it, let's take a look at Google Trends: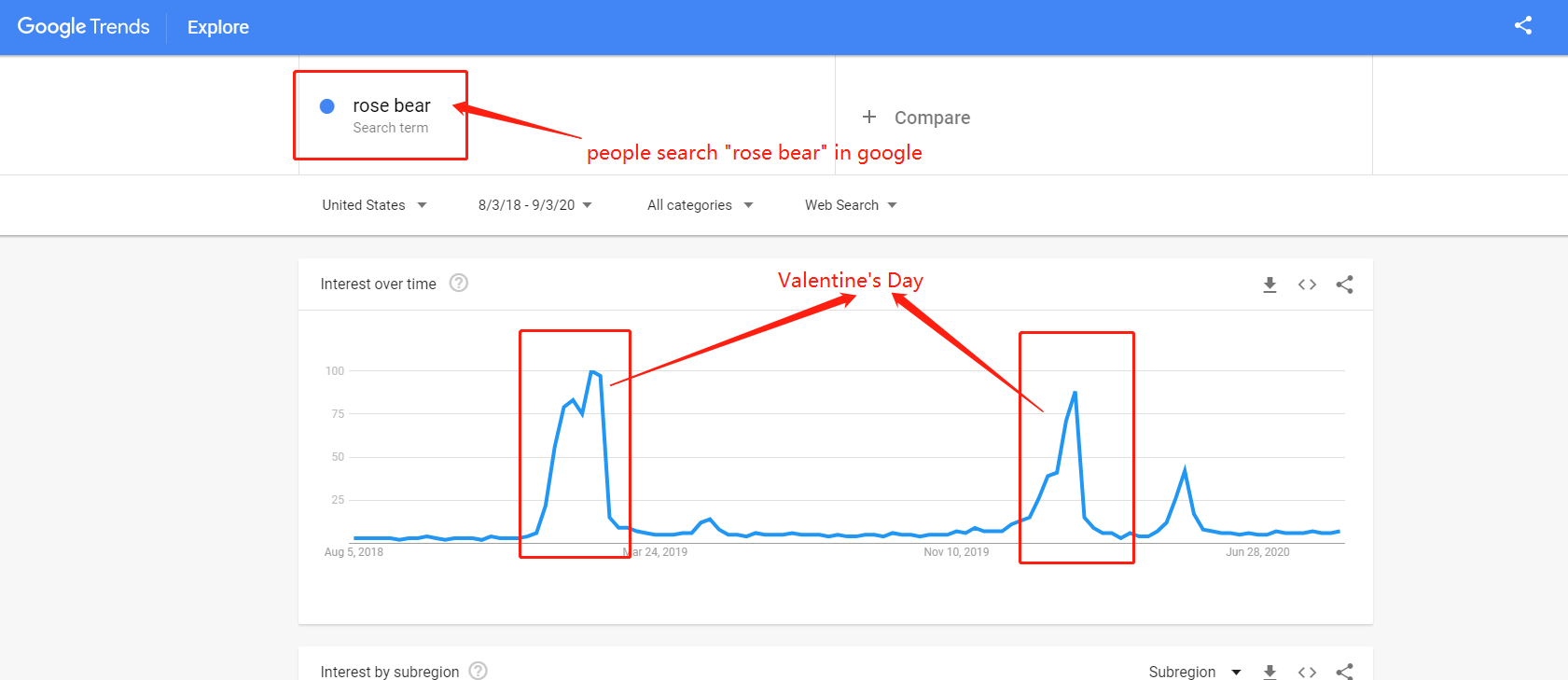 About the packing
Generally you will receive a folded gift box due to shipping reasons. After you receive the goods, you may need to assemble this box yourself.
The following is a reference video.
Others rose animal gifts: Rose Dog, Rose Rabbit, Rose Unicorn
The only difference between them and Rose Bear is that the body model is different.