SHIPPING & DELIVERY INFO
NOTES
Delivery delay due to COVID-19
Due to the current global epidemic situation, delivery may be delayed, but please be assured that your order will still be sent to you as soon as possible. Thank you for your patience again!
We recommend that you can monitor your local postal service for the latest information about your local delivery, as this information varies by regions.
If you have any questions about any orders in transit, please feel free to contact us. We care about you so much and we're doing our best to catch up!
Shipping Rates
Wisezebra offers Standard Shipping method.
Free standard shipping on orders over $49.
For all orders under $49, $5.99 shipping fee will be charged.
Shipping Time
You'll see an estimated delivery date on the checkout page. Shipping time can also vary from different regions.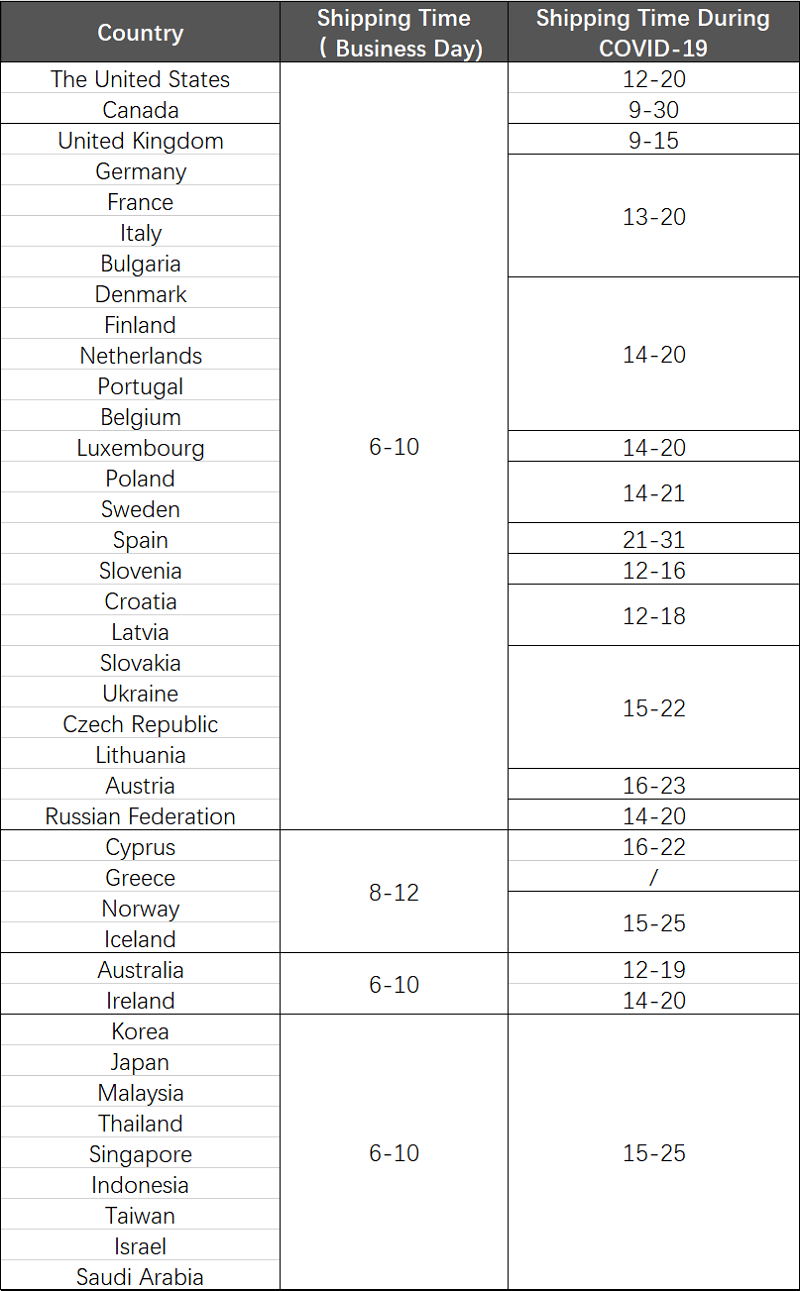 Please allow 2-6 weeks for delivery to the rest of the world.
Delivery
Most orders will be shipped within 1-5 business days of being placed. In busy time we may need more time to ship your order and we greatly appreciate your patience. Our top priority is to send orders to you are soon as possible!
*Please note that we only process orders on business days (Monday-Friday).
*Total Delivery Time=Processing Time+ Shipping Time
At Wise Zebra, we celebrate the act of discovery. We work with small vendors from all over the world to share their products, some of our products are shipped directly from our vendors overseas. Due to the nature of the shipping business, delays are often inevitable, all our shipping times are therefore guidelines only and specific delivery dates are not guaranteed.
For pre-ordered or back-ordered items:
If your order contains a pre-ordered or back-ordered item, we will ship any items we have available immediately and ship the items that are pre-ordered or back-ordered immediately when we have them available. So if you ordered more than one item on a single order and receive only a part of your item don't worry, you will receive your other items shortly after.
Tracking your order:
You will receive a confirmation email and/or text message, if you provided a mobile phone number, containing a tracking ID and a link to follow the journey of your package. To track your package you can visit our Tracking Page. If you are unsure of your Tracking ID please use our Order Lookup form located Here. Please allow 1 to 3 working days for the tracking information to show.
Wrong address disclaimer:
It is the responsibility of the buyer to make sure that the shipping address entered is correct. We do our best to speed up processing and shipping time, so there is always a small window to correct an incorrect shipping address. Please contact us immediately at contact@wisezebra.com if you believe you have provided an incorrect shipping address.
Returns:
By placing an order on Wise Zebra, you are responsible for the cost of return shipping back to Wise Zebra. Please refer to our Return Policy for further information on how to make a return.
Lost/Stolen Packages
Wise Zebra is not responsible for lost or stolen packages. If your tracking information states that your package was delivered to your address and you have not received it please report it to your respective shipping carrier at the information provided to you on our Tracking Page. If you have any further questions on how to do this please reach out to our customer support team at contact@wisezebra.com.